You can click on a picture to zoom it.
OFFER / Orchard Carts
Orchard carts are used for handling harvested fruit. The product range includes 22 models suitable for handling box pallets or pallets with crates.
The vehicle is equipped with a ball hitch coupling and Mefro or Vredestein wheels with two dimensions available: 16 x 6.5 x 8 or 18 x 8.5 x 8.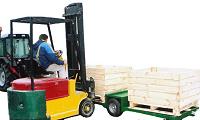 Available versions:

For more information, click on a picture in a desired category.
Cart Trains
Watch the clips to see examples of possible cart trains: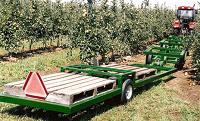 Click on one of the pictures to your left to watch a video for a given cart train.
Attachments
Orchard carts are attached to tractors via couplings that are available in two versions: standard and with uncoupling protection. Available attachments are both painted and zinc-coated.